The Best Data Recovery Software for Windows–MiniTool Power Data Recovery
Suffer from data loss? Have you ever mistakenly deleted some important data or partition? Formatted hard drive where significant data are initially stored by mistake? Nothing is worse than losing an indispensable file.
Fortunately, as long as the lost data has not been overwritten and data loss is not caused by hardware failure, you can recover them. And, with the rapid advances in software development, more and more data recovery programs are now made available in the market which can help to recover lost data quickly and efficiently. However, which one should we choose?
MiniTool Power Data Recovery, professional and free data recovery software developed by well-known software development company, is recommended here. It bundles several tools that together and can help us recover lost/deleted data from hard drive, USB drive, memory card, and other storage devices with ease. And, this professional data recovery software is compatible with many operating systems including Windows 7, Windows 8, Windows 8.1, Windows 10, Windows Server 2003, Windows Server 2008 (R2), and Windows Server 2012.
All-in-one Data Recovery Software
The bet data recovery software offers five different data recovery modules to help solve different data loss scenarios. For instance, it can recover data from the RAW file system; it can recover data from a drive with 0 bytes; it can recover data from CRC drive, etc. You can select a suitable data recovery module according to actual needs to restart a recovery session.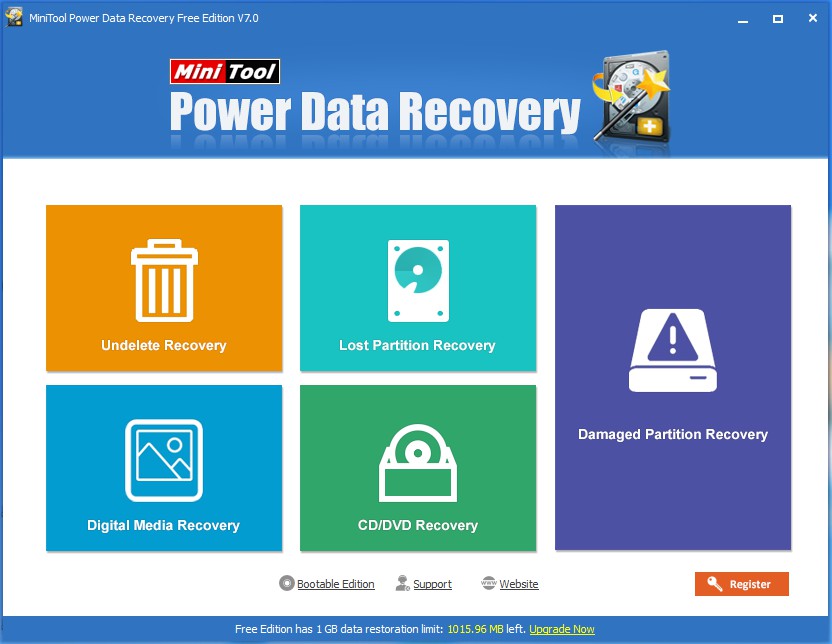 "Undelete Recovery": focuses on recovering deleted files and folders. By using this module, you not only can recover files deleted from Windows Recycle Bin but also can recover shift deleted files.
"Damaged Partition Recovery": is used to recover data from damaged, formatted and RAW partition. To be honest, as long as the partition exists, you can try this module to recover lost data.
"Lost Partition Recovery": is designed to recover data after partition loss or deletion.
"Digital Media Recovery": can help users recover photo, music and video files from digital media such as memory card, memory stick and USB flash disk in the event of any problems occurring.
"CD/DVD Recovery": can recover deleted or lost data from formatted or scratched CD/DVD.
Read-only Data Recovery Software
The best and all-in-one data recovery software has extremely high security. It can read data only when scanning storage devices. Thus, by using this free tool, you can recover lost data and files without bringing any damage to the original data.
Concise Interface and Easy-to-use
Considering some users are not good at data recovery, this read-only and all-in-one data recovery tool offers clean interfaces as well as straightforward wizards, which can lead users to go through all steps without any difficulty. In general, even a green user can use this tool to get lost data back easily. With only three-step, users can recover lost, deleted, formatted, corrupt files safely and without affecting the original data.
Other Excellent Features of MiniTool Power Data Recovery
Settings: You can use this feature to specify needed file systems and file types before scanning. For instance, if you only want to recover photos, you can only check the option "Graphics/Picture".
Advanced Filter: You can quickly find desired files according to the file format, size, and creation date, which is time-saving. For instance, if you want to recover documents only, you can choose "*.doc,*.xls,*.ppt,*.pub,*.docx,*.xlsx" to filter out "*.zip, *.mp3, *.jpg, *.pdf" and other files.
Find File: You can directly input file name to accelerate data searching process with the help of the function.
Preview: You can preview photos smaller than 20MB before saving.
After seeing the above introduction, I guess you might have a basic understanding of the best data recovery software. Here, to help you know more details about this tool, I want to share with you the experience recover data from the RAW drive.
How Do I Recover Lost Data from RAW Drive with MiniTool Power Data Recovery
Symptom
I stored massive critical data and precious photos on my hard drive. However, yesterday, I found I could not access data stored on this drive. This drive became RAW. And, I received a warning message as shown below.
You need to format the disk in the drive before you can use it.Do you want to format it?
Now, in this situation, what should I do? Can I get these data back?
Solution
Warning: Do not format the drive immediately. Otherwise, the lost data could be overwritten, and there is no way to recover them.
Although I cannot access the data, I'm not worried about this for I know I can quickly and efficiently recover lost data without affecting the original data by using MiniTool Power Data Recovery.
Firstly, I install the free and best data recovery software on my computer.
Note: Do not install it on the drive containing lost data.
Secondly, launch it and click Damaged Partition Recovery for this module is specially designed to recover lost data from damaged partition.
Then, select the RAW drive and then click Full Scan button to scan the entire device sector by sector to furthest find desired data. The scanning speed and integrity depends on the quantity of data and programs you selected.
Finally, preview and check needed files, and then save them in another safe place.
After the operations are done, I have successfully recovered lost data from hard drive became RAW file system in Windows.
Are you still worrying about data loss? You can try MiniTool Power Data Recovery this free tool to help you. By using this professional data recovery software for Windows, you can recover lost data that have been lost in a variety of ways with ease.
Comments
comments